2022 Jeep Grand Wagoneer in Woodstock Roswell Cumming GA For Sale
2022 Jeep Grand Wagoneer in Woodstock Roswell Cumming GA For Sale

It's finally here. After much anticipation, the all-new
2022 Jeep Grand Wagoneer in Woodstock Roswell Cumming GA For Sale
can now be seen in all its splendor. This incredible new vehicle comes in two flavors: Wagoneer and Grand Wagoneer. The former is the entry level, whereas the latter, with the "Grand" added to it, is the more equipped and premium version. Both are fantastic, and you'll be in for a treat regardless of which version you choose. With all versions of this vehicle produced in America, this Jeep is revolutionizing the SUV market like never before with elegance, poise, and pride. There is no other SUV like it on the road today, from its exterior appearance to the refinement and luxury on the interior, as well as the industry-leading technology built right into the SUV. The future is here.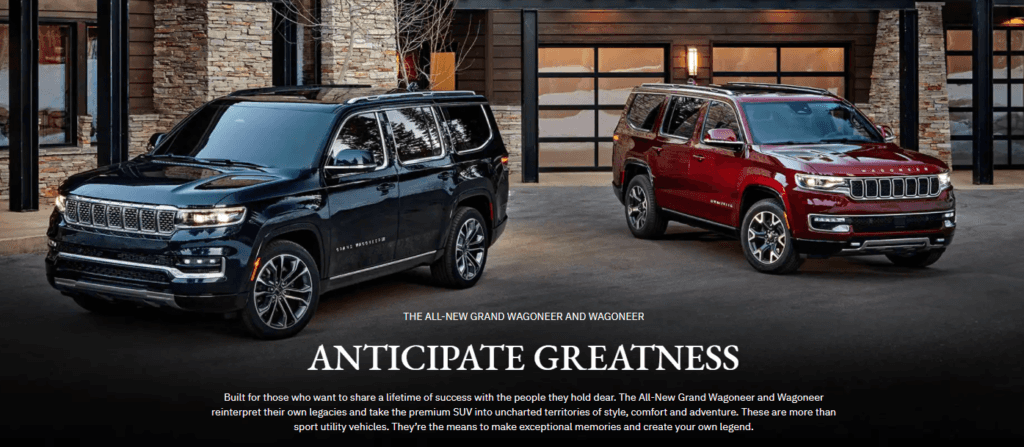 The 2022 Jeep Grand Wagoneer in Woodstock Roswell Cumming GA For Sale is the most up-to-date model Jeep has to offer. This car is the best in multiple areas, not just in its SUV sector, but across the whole automotive industry outperforming top brands that cost more than twice, if not three times as much as this incredible SUV. Jeep adopted a streamlined approach to the outside of this car, giving you as much shape and practicality as possible while preserving a low profile. While this SUV looks fantastic, Jeep didn't want to make it overly flashy, preferring instead to let the Jeep stand on its own laurels as it accumulates medals and accolades over time. However, the Jeep ancestry is evident in the design. The famous 7-slotted grille, trapezoidal wheel wells, broad stance, and other Jeep features ensure that everybody who sees it knows it's a Jeep and nothing else. In addition to the Jeep accents, the manufacturer has maintained its history of inserting small "Easter Eggs" around the vehicle to provide owners with some entertaining elements to seek out and others to stumble into as they own it. Finally, there are a variety of exterior modification options to choose from, including different trim lines, packages, and super-stylish wheel designs. And, because this is a Jeep, there will undoubtedly be a plethora of aftermarket modification accessories to choose from as the years pass, allowing you to truly personalize the SUV.

If you haven't already, please watch the 5-minute video above to learn more about the magnificent
2022 Jeep Grand Wagoneer in Woodstock Roswell Cumming GA For Sale
. While watching it, you'll witness all of the industry's most advanced features exhibited against the great American countryside. These qualities include details such as the greatest cargo volume behind the third row in its class. When it comes to luxury finishing, you'll notice genuine walnut throughout and finely finished metal in places where flimsy plastic would normally be found, giving it a genuinely attractive and high-grade look. The outstanding features aren't simply confined to luxury touches; the Selec-Terrain system, which has five different drive modes, also makes this one of the most capable SUVs ever made. Enjoy a campfire DVD right in your High-Definition Media Center while staying comfortable with 24-way adjustable front seats and integrated massage, as well as 4-zone automatic climate control to keep everyone happy. Last but not least, in this part, we'd like to point out that the vehicle's height can be adjusted. With the flip of a switch, you may raise or lower the entire car by up to 10 inches…just under a foot!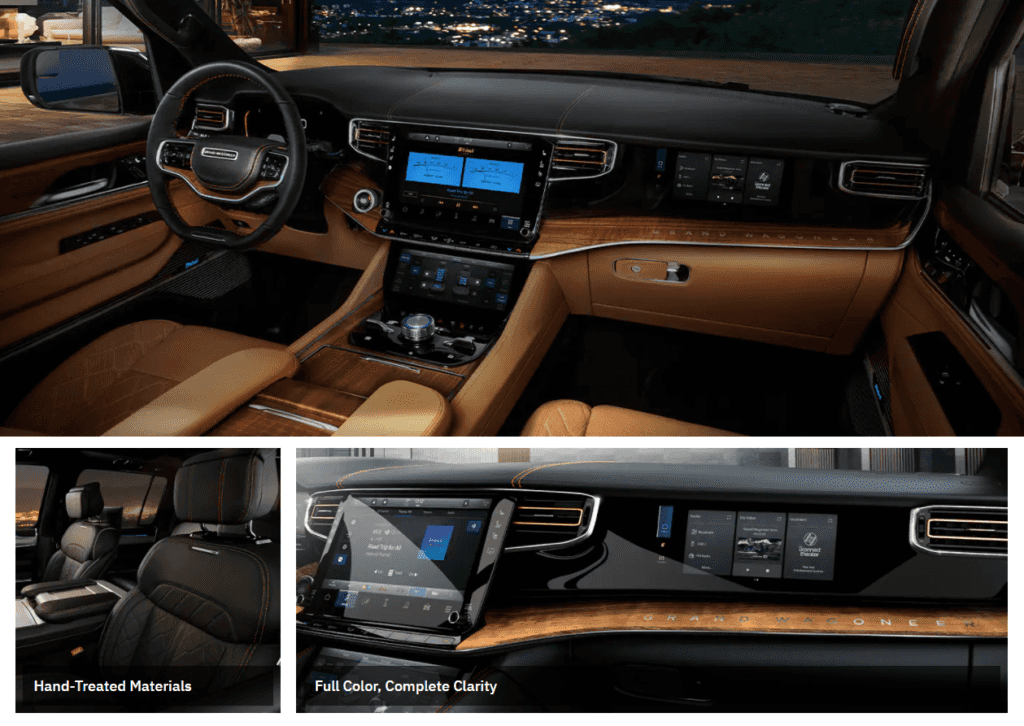 With the 2022 Jeep Grand Wagoneer in Woodstock Roswell Cumming GA For Sale, you get all of Jeep's capability. This means unrivaled off-road and on-road performance. The surround view camera and trailer hitch line-up assist give you a bird's eye view of the vehicle in tight maneuvering situations, allowing you to hook up to any trailer with ease and confidence without the need for a spotter. While we're on the subject of trailers, don't forget that this SUV boasts the Best in Class Maximum towing capacity. The heads-up display, which projects directly onto the windshield, provides critical information without requiring you to take your gaze away from the road. Such as the current speed limit, actual speed, vehicle proximity, and even navigation instructions if desired. Another Best-in-Class characteristic of this incredible SUV is its large total passenger volume, which ensures that everyone has adequate space for optimal comfort and luxury. Do you want to learn about technology? You can get it here with a total display of up to 75 inches, which is more than 6-feet of interactive display panels! There's a 10.25-inch screen for the front passenger on their side, displays for the back seats, and three distinct screens in the center console. There is no other car in the business that comes close to this level of user-friendly technology, and you will adore it. Finish it off with a Macintosh-powered audio system that outperforms the competition with 24 speakers throughout. Welcome to the world of luxury and capability in the future.

Are you ready to be the proud owner of a piece of history? We're here to assist you in achieving your goal of owning this excellent
2022 Jeep Grand Wagoneer in Woodstock Roswell Cumming GA For Sale
. If you want to see the car's unveiling in its entirety, watch the video above. It's a full 13-minute world reveal where you can see what the world saw when this vehicle was originally unveiled. You'll notice the meticulous attention to detail, care, consideration, and dedication that went into making this vehicle right for you today. You may have seen buttons on this page that will assist you with your automobile purchase. At the top and bottom of the page, there are inventory links. Don't worry if you don't see one in stock; they're disappearing almost as quickly as they appear, but we can get you anything you want. Simply contact us, tell us what you're looking for, and we'll do all the legwork for you and bring it in for you to take home, even if we have to order one from the factory, constructed to your exact specifications, at no additional cost. You'll also notice buttons that allow you to get your vehicle appraised online, get pre-approved, and schedule a test drive. If you don't have a lot of time on your hands, we may often bring the vehicle to you at your home or place of business so you can look at it and test drive it. You've worked hard for it, and you've earned it.